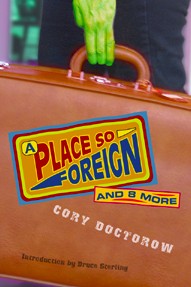 I heard an interesting
interview
with
Cory Doctorow
about self-publishing on NPR's
All Tech Considered
today. Some of the things he does to step outside the box of a traditional publisher:
publishes his work online using a Creative Commons license
uses Facebook and Twitter to build an audience
creates an online community to edit for typos and give tips on packaging and shipping
sells copies at traditional book stores
provides print-on-demand with Lulu, four different covers
gives attribution to readers if they fix a typo, providing their name in a footnote
solicits donations
sells limited-edition hardcovers, hand-sewn, with an SD card audio book and extra material bound into the book
sells audio CDs
sells stories for a commission on a mutually-agreeable subject
supplements his income with deals to write a novel
Doctrow states that he will make as much money, or more, as he would with a traditional publisher for his short story collections. He thinks he will net $70,000 to $80,000 on his new book of short stories.